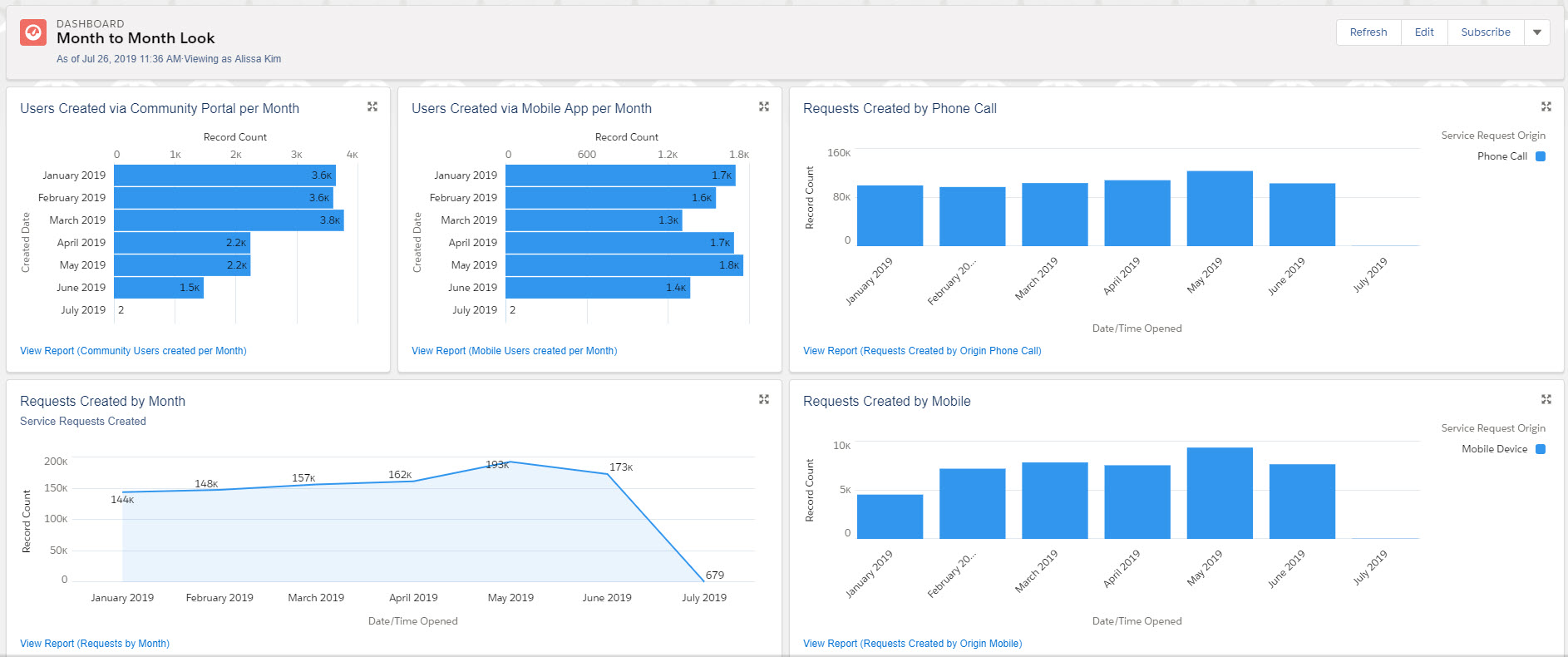 In December of 2018 our firm, in collaboration with Chicago's 311 and Department of Innovation and Technology, launched the City's modernized 311 system CHI311. We've talked a lot about how this modernization improved the system overall and brought a multitude of new functions to the residents of Chicago. But how has this new system benefited the city departments that rely on it day in and day out?
Since the launch of CHI311 the overall closure rate service requests has increased from 82% to 94% 1. Overall system improvement has a lot to do with that, but transitioning from a mostly manual, paper-based process to a fully digital system has had long-reaching benefits. We can talk specifics when we look at the Department of Streets and Sanitation. In the old system, scheduling the removal of graffiti took 45 minutes to an hour. With CHI311, it takes just 10 minutes.
It's clear that moving to the cloud-based Salesforce has improved efficiency, but it's also given departments more access and control over their data than before. As a user-friendly, accessible and intuitive platform, city users can use Salesforce to easily create, manage and view the reports they need to serve Chicago residents better.
Let's take a look at how Salesforce reporting has benefitted departments city-wide.

Dashboards
CHI311 hosts a wealth of data that informs important metrics: total open requests, total requests closed yesterday, number of requests coming in from the portal vs. call, etc. The data points are endless. When a user logs into the Salesforce-based system, the first thing they see is their "dashboard" which provides an at-a-glance look at metrics. Users can also subscribe to their dashboard and have it sent to their email on a set frequency, so they can receive data straight to their inbox.
Reports are not a 'one size fits all.' Metrics that are important to the Department of Water Management, may not be as helpful to the Department of Transportation. Since Salesforce dashboards can be configured based on the needs of the department, division and even the individual user, we can ensure that each city user has access to the metrics they need to keep tabs on their work and make changes when needed.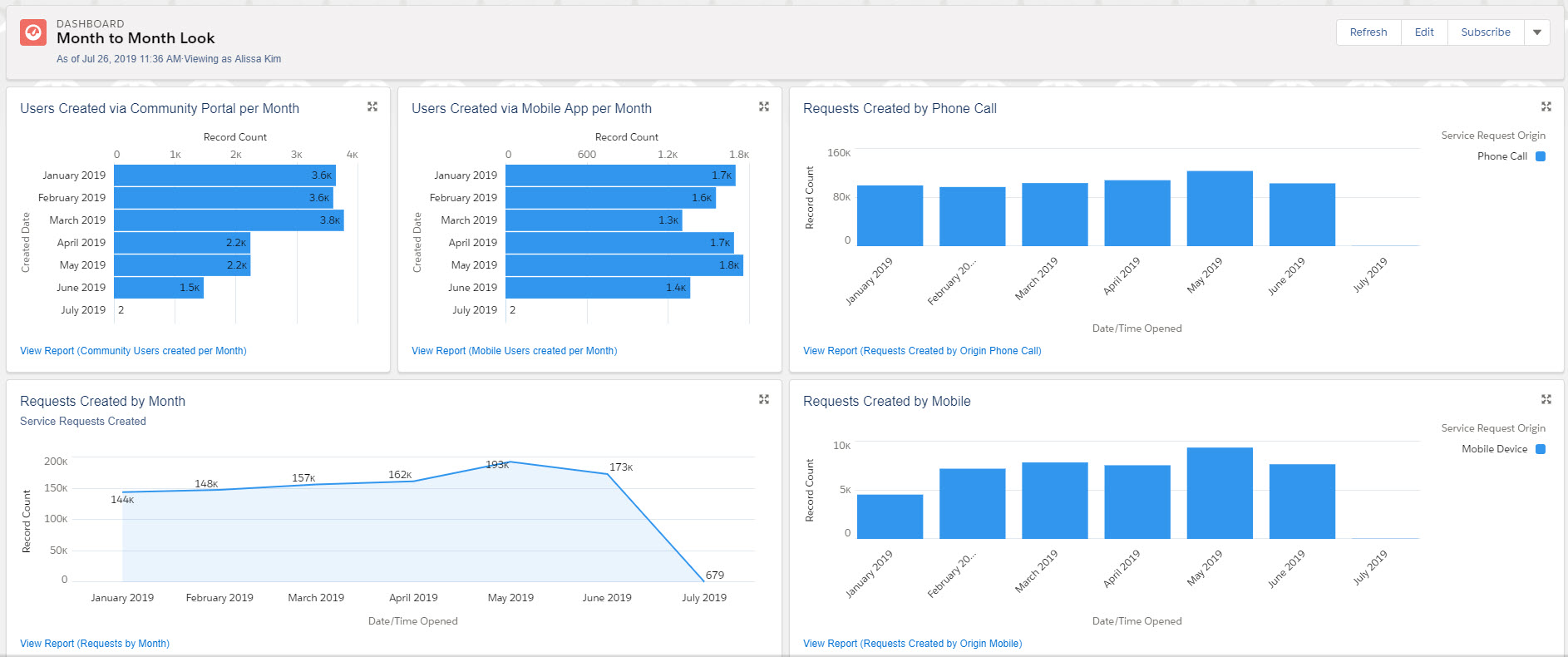 Send Reports
Sending reports on a set frequency ensures department leads always have access to the metrics they need, when they need them. Many city users receive their reports first thing in the morning so they have all the metrics they need to manage and inform their crews for the day. Reports, usually sent daily or weekly, often include metrics such as '# of requests opened yesterday', '# of requests completed yesterday', and '# of requests with missed milestones' to help departments track their closure rates.
This is an improvement from the legacy system, where users were required to log into a separate reporting system to set and view their reports. With all of the reports directly in Salesforce, users can remain in one system as opposed to logging in elsewhere to access what they need. Reports in Salesforce means users can click on a Request Number and navigate straight to that record for further information.

Report Builder
To create and manipulate reports in the legacy system, the user needed to, at the very least, know SQL. This hindered everyday users and required reliance on a small number of users to create reports and manipulate the data. One of the biggest draws to Salesforce is the fact that it's user-friendly and can be easily adopted by those who are non-technical. With the proper permissions, users within CHI311 can leverage the drag and drop features in Salesforce's Report Builder to create unique reports that satisfy their individual needs. With the ability to create unique reports, city end-users can view the metrics they need on a day-to-day, week-to-week, or month-to-month basis and adjust their operations as needed.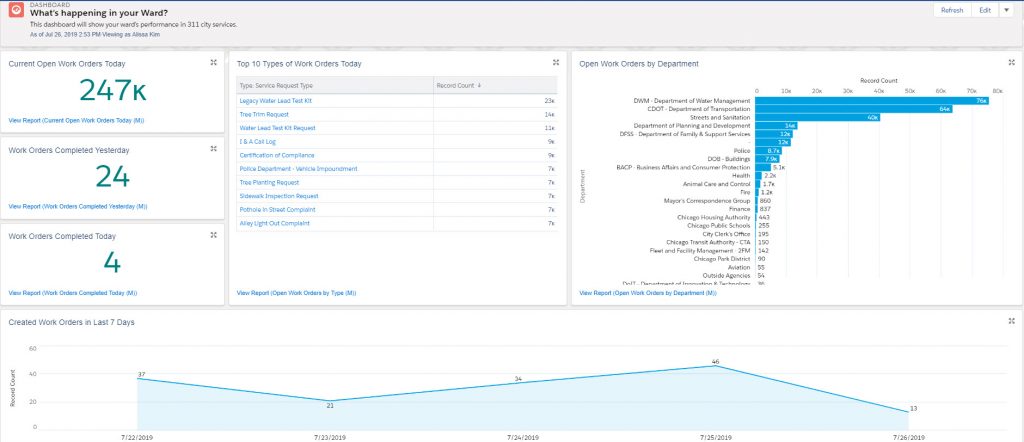 With easier access to system data and an increased ability to create reports, more system users than before can make informed decisions that benefit city department and the city residents they serve. Have you used Salesforce Reporting before? If not, we invite you to join the Ohana, and check it out for yourself!