The American Institute of Steel Construction (AISC) confers certifications to American and international architectural and construction firms, validating that these agencies are authorized to use structural steel in their development of buildings, bridges, and other structures. Garnering these certifications boost firms' credibility, enabling them to acquire new business.
Catalyst implemented a Salesforce case management and staff-facing portal to support the American Institute of Steel Construction (AISC) in keeping all data related to certifications – from firms' initial application to audits validating they qualify for certification – centralized in one place. We also integrated the case management backend into the AISC's website so data regarding certified firms is readily accessible to the public.
The Certification Process
The certification process begins as the interested firm submits an application and application fee to AISC. Upon receiving the application and payment, the AISC then sends an auditor to meet the applicant on-site at their office to go through a certification checklist. The auditor takes their findings back to AISC and makes a determination that will inform the "decision package" to be mailed to the applicant.
If deemed eligible, the firm will receive a certification, while those deemed ineligible will receive a breakdown of problem spots to rectify to improve their chances of certification in the future.
AISC holds the awesome responsibility of ensuring the firms it certifies construct with caution and integrity. For this reason, it typically takes between 5-6 months from the moment of submission to certification, and the firms are audited once a year for certificate renewal.
The Technology Behind the Certifications
Pain Points in the Legacy System
Catalyst began working with AISC as they planned to sunset their legacy software used to house data about certified firms. The software was outdated and did not encompass the full breadth of the certification process listed above. The legacy system only managed the status of application payments and audits; it did not create or maintain auditors' schedules, nor did it receive the firms' applications. As a result, AISC turned to Google Sheets, Google Forms, the Microsoft Office Suite, emails, and physical Post-It Notes to supplement the legacy system, minimizing the possibilities for internal collaboration and leaving data strewn about in disparate platforms.
New Workflows, as Facilitated by Salesforce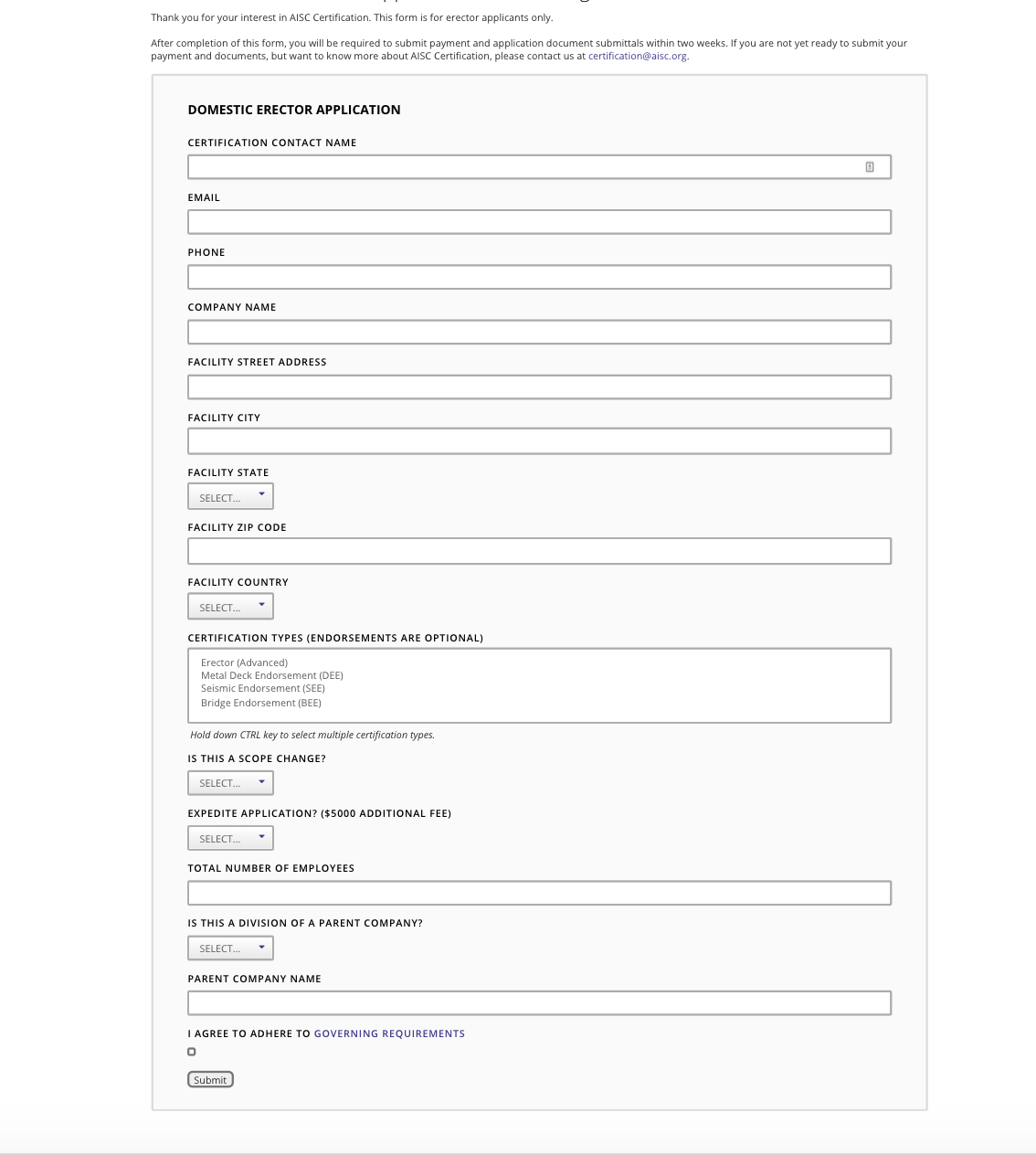 This web form for applicants sits on the AISC website and is fueled by Salesforce's web-to-case functionality. All submissions will be routed into Service Cloud.
Throughout seven weeks, we worked with over 30 AISC team members, conducting interviews and facilitating discovery sessions to identify gaps in legacy processes and how Salesforce could close them. The Catalyst team implemented Salesforce Service Cloud and Community Cloud to replace the functionality of the legacy platforms, along with an on-brand and mobile responsive web form that sits on their website to accept firms' applications and funnel them into Service Cloud. We also installed the Nintex Drawloop document generation tool so AISC could generate certifications and confirmation of payment receipts directly from Service Cloud.
The web form on AISC's website is dynamic, enabling interested firms to apply for the Fabricator, Erector, or International certifications based on the interests they specify:
Erectors more broadly install, repair, and maintain steel buildings and structures.
Fabricators bend, cut, and mold steel to create beams and columns during builds.
International certifications verify the firms meet the standards needed to build with steel abroad.
This web form routes submissions into Service Cloud, creating a record on the Service Cloud backend for each interested firm.
Salesforce products do not currently manage the actual application fee process, but each applicant's record on Service Cloud does list a unique payment number. AISC staff manually change the payment status to "Received" and use the Drawloop doc-gen tool to email the applicant a PDF'ed confirmation of receipt directly from Service Cloud.

After an application is submitted using the web form, it's details populate in a Service Cloud record and inform AISC's follow-up email to the interested firm.
The Auditor Portal is accessible exclusively to AISC's auditors and enables them to check what appointments they have scheduled, submit their audit findings (to be synced into the pertinent Service Cloud record), and review past audit reports.
AISC staff also use Service Cloud to manage auditor appointments and schedule their on-site visits. When on-site, auditors use a private portal built on Community Cloud called the "Auditor Portal," through which auditors can submit their findings.
All data inputted on this Portal syncs to the applicant's record in Service Cloud, enabling AISC staff to make a final determination about the firm's eligibility using one platform: Service Cloud. To further reinforce Service Cloud as the new, sole source of truth, Catalyst also migrated data for existing contacts, certified firms, and over 15,000 audit records from the legacy systems into the backend.
If deemed eligible, the firm will receive a certification in the mail generated from Drawloop and housed on their Service Cloud record, as well as information about completing yearly audits to maintain their certification. If deemed ineligible, they will be mailed information about repeating the audit and a breakdown of problem spots as recorded on the Auditor Portal.
The Auditor Portal is accessible exclusively to AISC's auditors and enables them to check what appointments they have scheduled, submit their audit findings (to be synced into the pertinent Service Cloud record), and review past audit reports.
The Catalyst team also integrated Service Cloud with the AISC's website for its Find A Certified Company feature, which allows the public to search for firms within a certain zip code who are certified as at least a Fabricator, Erector, or International Builder. If the firm is listed as an active, eligible certified firm on Service Cloud, it will appear as a search result on this map.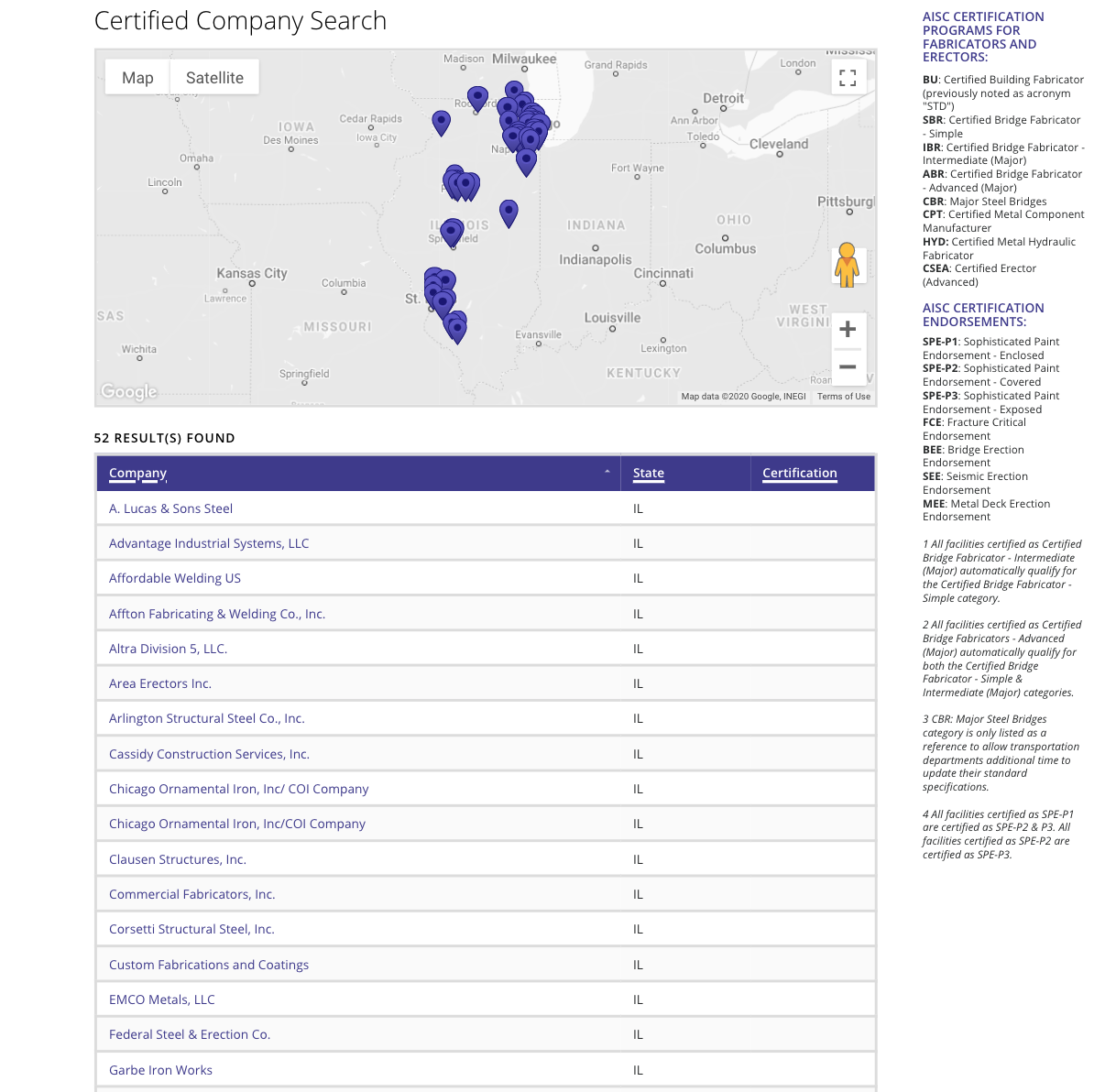 All results pulled back from this search are active certified firms, per the Service Cloud backend.
What Comes Next
The Catalyst team has just commenced Phase 2 with the AISC. We are building a firm-facing Portal through which certified firms can log in, find information specific to their firm's profile, such as what they are certified in and when each certificate needs renewal, and access exclusive resources the AISC publishes just for members.