Since 2017, Catalyst has supported the City of Chicago in developing, launching, maintaining, and enhancing a non-emergency 311 solution powered by Salesforce.
This 311 solution – called CHI311 – encompasses a constituent relationship management (CRM) backend built on Salesforce Service Cloud, a public-facing web-based Community Portal built on Salesforce Community Cloud, the City's first-ever public-facing custom mobile app, and Salesforce Marketing Cloud through which City communications personnel can send email campaigns and manage City social media accounts.
In response to the COVID-19 pandemic, Chicagoans looked to CHI311 for timely and reputable information about the virus, preventative health recommendations, City shelter-in-place updates, and most recently, re-opening guidelines.
In this period of uncertainty, CHI311 has equipped City staff and constituents with the tools to navigate the pandemic safely.
In sum, COVID-19 related service requests were added to the Community Portal and mobile app, along with up-to-date articles regarding public and preventative health and Chicago-specific safety guidelines. Marketing Cloud was then used to create and send City-branded emails about available housing grants and community letters from Mayor Lori Lightfoot, as well as to track constituent conversations about the City's response to the pandemic via social listening.
Quickly Accessing COVID-19 Related Services and Information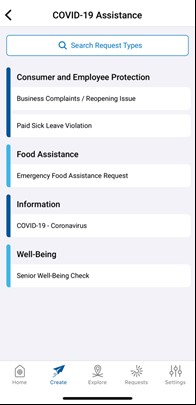 As the pandemic first began to sweep the City, the City's 311 call center experienced a 35% increase in constituent outreach directly related to Coronavirus inquiries.
Identifying patterns in these calls and requests, the Catalyst team stood up a "COVID-19 Assistance" category on the public-facing side of CHI311 in under two days. This new category of type codes was created to meet the constituent needs that were repeatedly asked for in the call center and in the expedited timeframe that emergencies mandate. Please refer to the screenshot to see the COVID-19 type codes added to CHI311 to date.
As time is of the essence in emergencies, we note the following turnaround times for various COVID-19 service requests:
The City has collaborated with organizations like the Salvation Army to respond to and close emergency food requests in 2.5 days.
General COVID-19 inquiries submitted through CHI311 are answered within 24 hours, with a staff member at the Chicago Department of Public Health reaching out to the constituent directly.
Senior well-being checks requested have been completed in one day.
7,000 COVID-19 requests were received by Chicago's non-emergency 311 within the first three weeks of the City's shelter-in-place.
These calls were deflected from 911, easing pressure on emergency responders and enabling them to focus on pressing matters during one of the most unprecedented public health events in modern history. Similarly, because constituent self-service has always been at the crux of CHI311, a COVID-19 emergency banner resides at the top of the CHI311 mobile app and Community Portal, ushering constituents to the City's COVID-19 microsite where they can find the latest information from their City leaders.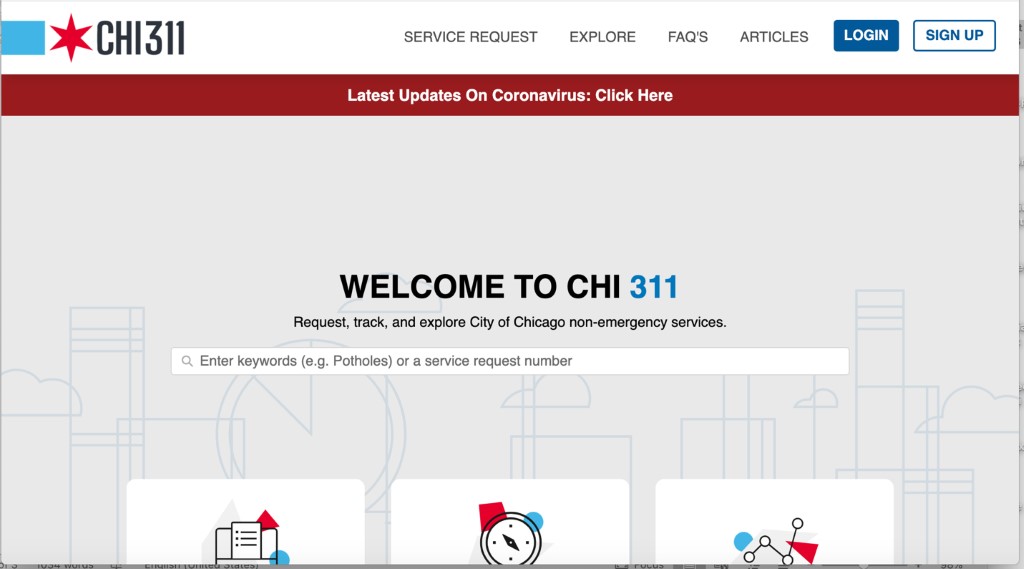 Communication is Key: Marketing Cloud and the City of Chicago's COVID-19 Response
Among the channels the City of Chicago used to communicate its COVID-19 response plan were email and social media, as facilitated by Salesforce Marketing Cloud and Catalyst's Marketing Cloud Subject Matter Experts.
The Chicago Department of Housing
To ease financial strain provoked by the pandemic, the City's Department of Housing (DOH) established a grant program through which Chicagoans could apply for assistance to pay for their housing.
Over 83,000 residents applied for these grants, and Marketing Cloud's Email Studio module was leveraged to send applicants information about the grant program itself on City-branded email templates. Information moves fast in a pandemic, and the Catalyst team helped the City craft and send the emails at a moment's notice. Applicants approved for the grant were also notified with an email sent from Marketing Cloud.
Personalization always matters in public sector communications. Constituents want to feel recognized by local government, and this is all the truer amid crisis. The City of Chicago flexed this personalization muscle with the DOH grant recipients. Personalization strings, driven by AMPScript (Marketing Cloud's proprietary scripting language for advanced personalization in emails), were placed in email templates sent to grantees to allow for varying combinations of the following to appear in one email:
The recipient's name
A survey link specific to that grantee
DOH contacts specific to their housing case
AMPScript made it possible to send one email that rendered over 250 variations based on the data being pulled from the Marketing Cloud contact list to fill in these unique data points. Rather than send hundreds of separate emails, DOH could send just one email without compromising the personalization the recipient needed and deserved.
From the Office of Mayor Lori Lightfoot
The Mayor's Office also leveraged Email Studio to send newsletters from Mayor Lightfoot to subscribers, including:
An explanatory email in March when the pandemic first began to escalate discussing shelter-in-place guidelines
A voting-oriented email leading up to Election Day to recruit election judges
A community update to check-in with folks and bolster morale in Summer 2020 as the City slowly began to re-open
Within Salesforce's Marketing Cloud suite of products is Social Studio, a social media management and social listening tool. The Catalyst team set up a series of social listening tools called Topic Profiles regarding COVID-19 to track constituent conversation, questions, and concerns around topics such as the virus itself, outdoor dining, and Chicago's reopening plan.
Insights from these Topic Profiles were shared with Mayor Lightfoot to inform her communications plan, talking points shared in press briefings, and content published on the City's website, social media and CHI311's public-facing elements. The City also tapped into Social Studio's scoring algorithm, called "Sentiment Analysis," to determine the tone with which Chicagoans talked about COVID-19 related topics, paying particular attention to topics with overwhelmingly negative sentiment to inform where Mayor Lightfoot and the Communications Team needed to quell feelings of concern and fear.