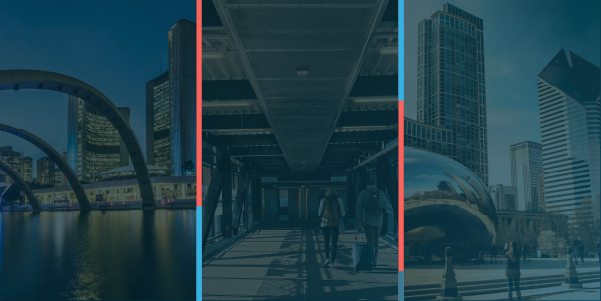 Learn how Catalyst, equipped with Salesforce technology, is helping local governments modernize their public services and deliver better experiences for their constituents.
Imagine there are two tasks you need to accomplish in one day, and a good friend offers to take care of whichever you think is harder. The first task is to return a pair of shoes you bought from an online retailer. The second is to notify your local government of a pothole on a major road that has doubled in size in the last two months.
Which task would you give to your friend?
The standard for customer experience has risen rapidly in recent years. Both B2C and B2B customers expect seamless, personalized experiences from businesses that treat them like real people. Notably, digitally-facilitated customer service is increasingly the norm with technology serving us across many – almost every – use case that is modern, connected life. This has contributed to and has driven the high expectations for digital customer experiences. Public sector and local governments aren't granted exceptions to these customer service expectations and standards. Yet, in many cases, there's a significant gap between the experiences customers have versus the ones they have as citizens or constituents of their local governments.
At Catalyst, we're committed to closing that gap.
We are the 3-time winning Salesforce Partner Innovation Award recipient. Of those three awards, two were awarded in the Government & Public Sector category with one in Transportation & Travel. Our implementations for the City of Toronto, Toronto 311 (2022), Port of Seattle (2020), and the City of Chicago, CHI311 (2019) earned this accolade three out of four consecutive years. Each project drove revolutionary transformation in how these organization serve and build trust with their publics. The work in each project impacted numerous departments and touched several technology solutions, with Salesforce serving as a "glue" or common source of truth. In this article we've chosen key details that demonstrate and provide models for constituent-centered government technology. Read on for a closer look at how modernizing technology can improve constituent experiences.
Toronto
In the winter of 2020 alone, the 311 (non-emergency) team for the City of Toronto received more than 10,000 phone calls related to winter weather concerns.
Before modernizing their systems with Salesforce, the processes for receiving, tracking, and resolving service request cases like these weather concerns were very manual and disconnected. Lack of integration between their systems and piecemeal workflows for different kinds of service requests made it slow and expensive to resolve cases, with limited ways to collaborate across departments.
We sent our team of government technologists to overhaul the underlying technology with a revamped CRM built on Service Cloud, equipped with a custom-built public-facing mobile app and web portal. Both the app and the web portal make things simple, easy, and clear for Torontonians with a single intake form that dynamically responds to the scope and variety of the public's needs with nearly 600 different service request offerings. Requesting city services to address potholes, graffiti, or a traffic light malfunction, is unprecedentedly easy with a variety of channels to best appeal to constituents' preferences for their 311 experiences. Whether it's via email, social media, the web portal, the mobile app, or with the assistance of Salesforce Live Agent on the web and mobile platforms, there is no wrong door to access Toronto's government services.
Constituents can now receive convenient email, SMS, and push notifications with real-time updates on their service requests, which improves transparency and trust in the city government's abilities to serve its stakeholders. With "Explore"
functionality built into the mobile app and the web portal, existing service request cases surrounding a given address are suggested to be viewed when a constituent types in that given location. This enables stakeholders to opt in for updating notifications, even though they may not have been the individual who originally reported the concern.
And with boosted constituent satisfaction and unprecedentedly easy ways to get in touch with local government, Toronto 311 is on track to receive twice as many cases per year — from about two million to 4.6 million.
Port of Seattle
With more than 50 million flyers traveling through SEA-TAC airport every year, it's easy to imagine how the slightest inefficiencies in digital operations can have an immense impact on constituent experiences. Before working with Catalyst, the Port of Seattle (which oversees the airport and other critical infrastructure) had a disconnected digital ecosystem spread between siloed platforms, which was impeding on their abilities to offer efficient customer service experience. Across the Port's domains for Airport Customer Experience (ACE), Commission Services (CS), and External Relations (ER), processing and responding to constituents communications was subject to inefficient technical operations.
Our Catalyst team unified all of the Port's disconnected systems under the Salesforce Customer-360 umbrella, bringing communications, marketing, event management, and other functions together into a centralized platform. This enables constituents with the ability to contact ACE with questions, complaints, concerns, compliments, and comments about their experience at SEA-TAC through social media, email, text (SMS/MMS), and web form. AI-powered tagging features categorize constituents' communications, which allows the organization to automatically vet, triage, and assign cases for the fastest follow-up and resolve. With decreased resolution times for airport travelers by more than 16%, constituents get faster, clearer communication.
With our implementation, the airport is also equipped to send SMS alerts to notify travelers of happenings within the airport. Constituents are immediately in-the-know with real-time updates on everything from construction update to airport concessions.
Travelers are also now empowered with self-service options in a mobile-responsive web form, hosted on SEA-TAC's website, where inquiries are met with informational knowledge articles. This cuts the volume of instances in which an individual would have to contact airport departments.
And the momentum continues, as we've just started an additional project with the Port of Seattle to enhance their call center operations!
Chicago
It's easy to forget that the original digital transformation movement started by turning analog, paper-based systems into digital processes. Before partnering with our Catalyst team, if Chicagoans reached out to the 311 department about a pothole, snow removal, graffiti blasts, streetlight repair, or other non-emergency requests, the 311 employee had to search through physical binders with hundreds of pages to find the information they needed. Callers often had extensive waits on hold, even for simple, purely informational requests like an updated ETA for fixing their pothole.
With a vision for transparency, efficiency, and constituent satisfaction, the City of Chicago partnered with us to usher their 311 department into the 21st century with the build of a public-facing web portal, a best-in-class, modern website, and their first-ever public-facing app. Fitting of modernized government service delivery, Chicagoans can self-serve and access city information, as well as request services via multiple channels outside of calling 311.
Now, a comprehensive — yet concise — digital library of over 500 knowledge articles on the website and mobile app provide constituents the information they need to answer their own questions. In situations requiring service request, individuals can remain updated from submission to completion with real-time updates presented in the portal, as well as via push notifications from the mobile app.
With "Explore" capabilities enabling visibility on Chicago's processing of requests in any given neighborhood, constituents are granted transparency and the means for accountability of their city. This improves trust and rapport between the public and the government entities that serve them through a constituent-first lens. Through
efficient technology, the City of Chicago is now providing greater transparency, faster services, and improved communication with its residents.
In pursuit of better government services
The future of constituent experiences will be shaped by forward-thinking, innovative leaders who prioritize seamless technology operations and a constituent-first approach. Our team of government technologists here at Catalyst are up for the challenge, and as a minority-owned business, we take the responsibility of building technology that works for EVERYONE very seriously.
Our implementations with the City of Toronto, Seattle, and Chicago demonstrate what the future of connected government and public sector organizations can and will offer to their constituents with investment in world-class technology – improved efficiency, no-wrong-door approach with multiple communication and engagement channels, enriched trust, transparency, and equity.
If you'd like to learn more about our public sector technology capabilities, or have any questions for our team, please reach out — we'd love to hear from you.