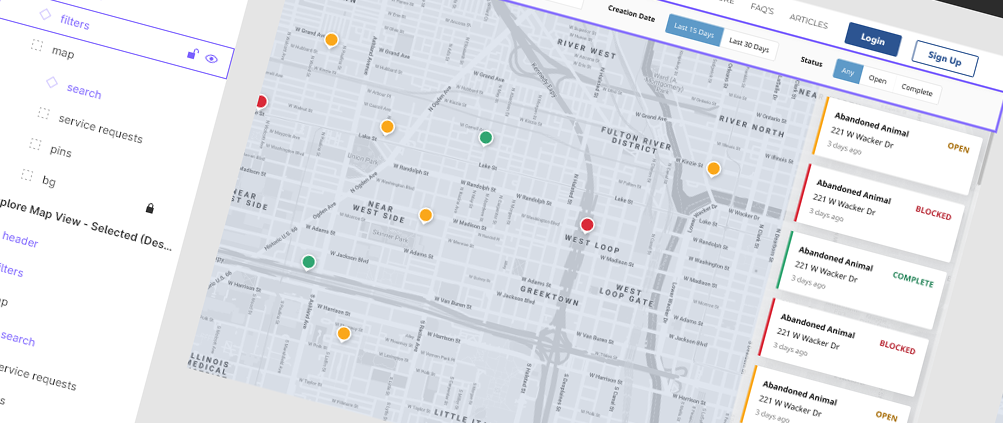 Five years ago it may have been fair to say that state, local and federal government were far behind the curve in terms of their approach to design. City websites and sites for government services often got a bad rep for being overloaded with information and difficult to navigate. Recently though, government bodies have placed more importance on design, understanding that the image they portray to their constituents is important.
Impactful design has always been an art, especially when trying to evoke a certain emotion or attempting to get something from your customer. It's also always come with its own set of standards and challenges. When designing for the public sector, those challenges are often compounded. Since GovTech is our jam, we've dealt with a lot of the unique challenges that come with designing for the public sector.
Take a look at some of the things we've learned while designing city websites, mobile apps and overall branding.

Massive Pool of End-Users
When considering design in the public sector, this often means that your end users are extremely diverse, spanning wide age, cultural and tech experience ranges. When you design a city website you must design for the entire city. That means accounting for different accessibility needs (more on that later), language barriers, and age gaps. When we designed the web portal for CHI311, the website for the Chicago Department of Aviation, and the payment site for the Department of Finance Utility Billing and Customer Service we designed for the entire city.
Doing so came down to ensuring the sites were developed with strong UI/UX standards. One of the most important aspects of a good UI is providing for your user's expectations. For CHI311, submitting a service request is the primary action. When we developed the public-facing website, these are some of the steps we took to make the most desired action easily accessible:
Ensure it's very clear how to submit a service request with a main navigation item as well as a large section directly on the homepage
Include "submit request" buttons throughout the site when appropriate
Grant multiple methods of finding the desired request: users can use a keyword search or manually search through the categories to find their request
Simple iconography to quickly convey the meaning of each service category
The service request form is guided and broken up into step-by-step sections with minimal required fields and clear instructions to avoid burdening the user
Accessible Design Doesn't Mean Boring Design
While all design initiatives should adhere to the accessibility guidelines set by the American Disabilities Act (ADA), city and state website must always adhere to them. Especially if your site is offering a public service or important information. Accessible designs allow people with disabilities to navigate, understand, interact with and contribute to the web. Disabilities that need to be considered when designing for the public sector include decreased mobility, color blindness, and varying degrees of vision loss. Thankfully the World Wide Web Consortium has already set standards called the Web Content Accessibility Guidelines (WCAG).
Following these guidelines though should never restrict your creativity, and they never need to compromise your design. On the contrary, they often force designers to be more creative. This article does an amazing job of outlining what all designers should know about accessible design. It's always more rewarding knowing that you're crafting a product that can truly be used by ALL.

Design That Builds Trust
Did you know that most Americans tend to trust their local government more than their state government? According to Gallop, 72% of U.S. adults say they have a "great deal" or a "fair amount" of trust in their local government, compared with 63% who say the same about their state government. That's a small win for local government but even still, public sector agencies must work harder to develop trust with their constituents to make them feel secure in using their site or service.
This means that the user interfaces (UI) for public sector accounts, payments or information requests must be smooth. All interactions with the site must translate as secure and cannot be disjointed or janky in any way. Here are some of the guidelines we follow to achieve this:
Never request user information for an unclear purpose.
People need to know that their information is being handled with care and that it won't be abused.
When possible, do not require users to create an account.
In tandem with the first point, you don't want to block users from using your service by hiding it behind an account creation process. That is especially true for government services.
Keep your users up to date:
For CHI311, we provide status updates for all service requests which proves users are being heard and that the city is not wasting their time.
Do not make users commit to unclear actions.
Every action a user takes must provide some form of reaction either with confirmation information or changing UI states. When an action is taken and there is no immediate response users will often be confused or worse, believe your product is broken.When an action is taken and there is no immediate response users will often be confused or worse, believe your product is broken.

Willingness to Teach
The public sector must often find ways to do more with less. Funding is not always readily available like it is in the private sector. However, the importance of design is not lost on state and local government. Now more than ever, they are setting resources aside to develop meaningful digital experiences, consistent branding, and impactful design. Doing more with less may mean that managers in the public sector who are tasked with spearheading a new web initiative may not always be experienced designers or even be familiar with web development.
Consulting designers must possess a willingness to teach their clients about design standards and exercise patience when working with people who may not yet know the ins and outs of design. They must often inform their clients of design best practices and why it's best to do things one way over another, making a strong understanding of design principles a requirement. This can make design in the public sector more challenging but also more rewarding in the end.

Focus Groups Are Imperative
Testing your site, service or functional design is extremely important when designing for the public sector. If you're developing a new website for city residents, you want to have buy-in from the actual end-users. When we designed the portal and mobile app for CHI311, resident focus groups helped us decide the names of service categories as well as the icons we used. They also validated the service request submission process. This ensured that the design decisions we made were in the user's best interest.
Working on design in the public sector can be a major undertaking. With so many variables and complexities, it's not unusual to find yourself feeling a bit lost or overwhelmed. That is why it's incredibly important to use all the tools available to have a solid grasp of the goals and requirements of the project. Through preparation, careful planning and a solid foundation of fundamentals, success is always within reach.
Here are some examples of sites we've developed for the public sector: