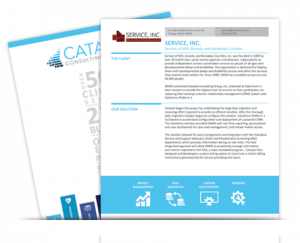 THE CLIENT
Service of Will, Grundy, and Kankakee Counties, Inc. was founded in 1989 by over 30 health care, social service agencies and advocacy organizations to provide independent service coordination services to people of all ages with developmental delays and disabilities. The organization is dedicated to helping those with developmental delays and disabilities access and utilize the services they need to lead a better life. Since 1989, SWGK has provided services to over 40,000 people.
SWGK contracted Catalyst Consulting Group, Inc. (Catalyst) to help them in their mission to provide the highest level of services to their participants, by replacing their existing customer relationship management (CRM) system with Salesforce Platform 1.
OUR SOLUTION
Catalyst began the project by undertaking the large data migration and cleansing effort required to provide an efficient solution. After the thorough data migration Catalyst began to configure the solution. Salesforce Platform 1 facilitated an accelerated configuration and deployment of a powerful CRM. The Salesforce solution provided SWGK with real time reporting, personalized end-user dashboards for case load management, and instant mobile access.
The solution allowed for easy management and integration with the Individual Service and Support Advocacy (ISSA) and Preadmission Screening (PAS) department, which provides information during on-site visits. The fully integrated approach will allow SWGK to proactively manage information and metrics reported to the ISSA, a state mandated program. Catalyst then designed and developed a custom billing system to track over a million billing transactions generated by the service providing end-users.