Chicago, IL – It's no secret that the tech industry has impacted and influenced our lives greatly. With each passing year we become increasingly more digital, and there are no signs of that stopping anytime soon. As an IT consulting firm that leverages technology to help businesses drive their companies forward, this is all great news to us.
The tech industry is our bread and butter- and our jam, too, while we're at it. So when we saw CompTIA's 2017 Cyberstates, a report of the state of the tech industry, we had our design team whip up a nifty infographic to share all of the fun facts. We also took some time to hone in on statistics specific to Chicago for two reasons: one, it's our home city and just so happens to be one of the best cities in the world, and two, Chicago was recently ranked as the #1 emerging tech hub.
So with that in mind, enjoy our infographic, and be sure to check us out for all your IT and business management consulting needs.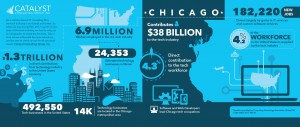 About CompTIA
CompTIA, the world's leading tech association, is a thought leader and an action leader. From our new IT professional association to our leading certification programs, from our original research to our member communities and councils, our unparalleled programs set industry standards, foster skills development and generate knowledge and insight every day. With our members, we're building the foundation for technology's future.
Catalyst Consulting Group, Inc.
At Catalyst, building meaningful, valuable connections with our clients and partners is just as important as the technology solutions we create. Taking the time to understand the ins and outs of your business isn't just something we like to use in our sales pitch. It is embedded within the core values of our firm. It is the first step in our business approach, and it is how we've sustained long-lasting relationships with our clients for the past 25 years.
Each member of our team brings an innovative approach to the solutions we develop, is committed to your business and is easily accessible when needed most. Let us be the CATALYST that sets you on the course to success without compromising what makes you, you. For more information please visit our website at: www.catconsult.com.